Parish Mission Statement
"Our Lady of Lourdes Parish is a family of believers, embraced by the Father's love, nourished by Jesus in Word and Sacrament, and strengthened by the Holy Spirit. Inspired by Mary, we commit ourselves to live and proclaim the Gospel of Salvation."
Parish Office Hours
Monday-Thursday 9:00AM to 5:00PM
Friday 9:00AM to 12:00 Noon
Celebration of the Eucharist
Saturday Vigil ……………. 5:00PM
Sunday …………………….. 7:30, 9:30, 11:30AM, 5:00PM
Mon-Fri ……………………. 9:00AM
Sat …………………………… 9:00AM
Sacrament of Reconciliation
Saturday …………………… 8:00AM – 8:40AM
……………………………….. 3:30PM – 4:30PM
Exposition of the Blessed Sacrament / Benediction
Wednesday ……………….. 9:30AM to 4:00PM
Saturday ………………….. 9:30AM to 10:30AM
2019 Holy Days of Obligation
Mary, Mother of God
January 1
Ascension of the Lord
May 30
Assumption of Mary
August 15
All Saints Day
November 1
Immaculate Conception
December 8
Nativity of the Lord (Christmas)
December 25
Mary, Mother of God
January 1, 2020
1950's
While visiting Europe, Father William DuBois, a young American priest, found inspiration in the story of Bernadette and had the opportunity to pilgrimage to Lourdes, celebrating his great devotion to Our Lady.

Spring 1957
After having determined the need for a Catholic Church in Dunedin, Father DuBois was given permission by Archbishop Hurley and the Diocese of St. Augustine to construct a church on 34 acres of land that belonged to the Diocese.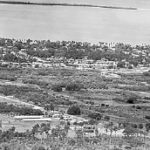 December 8th, 1957
Our Lady of Lourdes Parish, with Father DuBois as pastor, celebrated the first Catholic Mass in Dunedin on the stage of the Palms Theater. The dining room of the Jersey House Hotel was used for daily Masses, CCD classes, and various church group meetings.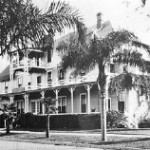 December 7th, 1958
Construction was completed on Our Lady of Lourdes Church and Social Hall and they were dedicated and blessed by Archbishop Hurley. The OLL community of 600+ parishioners finally had a home.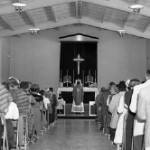 September 1962
Our Lady of Lourdes School was completed and opened with 72 students in grades K-4. Grades 5-8 were added over the next four years.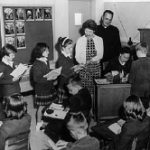 1968
Our Lady of Lourdes officially entered the newly established Diocese of St. Petersburg, headed by Bishop Charles B. McLaughlin.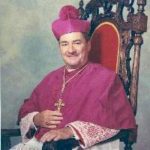 September 25th, 1977
Construction was completed on a new, large, permanent church and Archbishop McLaughlin dedicated and blessed the finished church. The "old, provisional" church was then used for school and CCD classrooms, as well as for parish staff.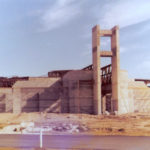 December 1986
A permanent rectory was completed on the church grounds for the priests' residence.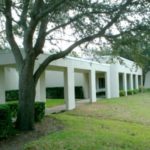 February 1991
The DuBois Center was completed and dedicated as a multi-purpose facility and base of operations for staff and other parish administrators.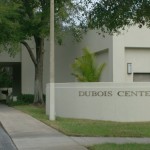 April 2004
The multi-functional Conmy Center, a special events building, was completed and dedicated. The new activities center would coordinate everything from sporting events and performing arts for the school to community events and local concerts.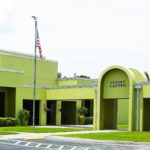 February 2015
Renovations on the interior of the church were completed, with Bishop Robert N. Lynch celebrating the Mass of Blessing and Dedication of the Altar.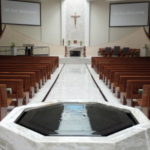 Our Pastors
View a list of all pastors who have led Our Lady of Lourdes.
Msgr. William DuBois, Founding Pastor 1957-1979
Father Claude Brubaker 1979-1981
Father James Larkin 1981-1996
Father Thomas Madden 1996-2006
Father Gary Dowsey 2007-present